Stay Tuned, Keep Listening and be sure to come up and say Hello.
RICK'S UPCOMING SOLO SHOWS:
Saturday, July 17th, 2021 – Sheldon Old Home Days
Free Afternoon Show. Performance part of an every-five-year town celebration produced by the Sheldon Historical Society in Sheldon, Vermont, just a stone's throw from the Canadian border. I had a ball playing there five years ago, fueled by Bill Wetherbee's terrific BBQ Chicken.
NOW BOOKING FOR 2021 – 2022 DATES:
Call (802) 355-3531 or email at [email protected] for Availability & Booking details for Rick Norcross solo appearances for your special event.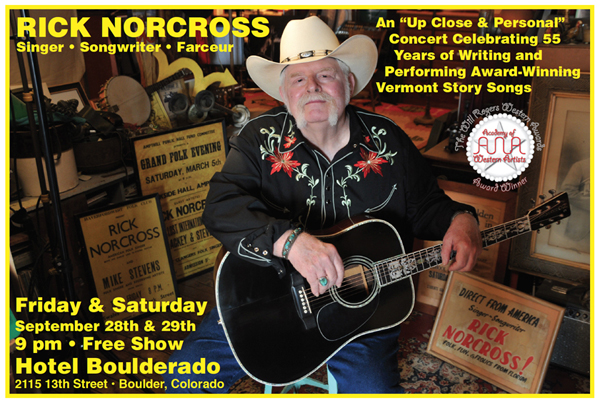 MORE ABOUT RICK:
Rick Norcross, longtime leader of Vermont's premier western swing band, Rick & The All-Star Ramblers, also loves to perform solo shows that are personable, always amusing and that intimately involve each audience in every show. His songs spin yarns and often recall unusual and historic events from the pages of Vermont's colorful history. He has performed at benefits for The Ethan Allen Homestead, The East Hardwick Neighborhood Organization, The South Hero Library and Lost Nation Theater over the past two years alone.
The Academy of Western Artists (AWA), based in Gene Autry, OK, honored him as writer of the "Western Swing Song of the Year" at the 19th Will Rogers Awards in Dallas in 2015.
Rick began playing the guitar at 16 in East Hardwick, Vermont and just completed his 57th year as a performing artist. His biography, "Riding My Guitar – The Rick Norcross Story" was written by noted Vermont author Stephen Russell Payne.
Over the years, Rick has performed in Florida, New England, in England, Ireland, Holland, Canada and in Spain. These days, with the All-Star Ramblers, he keeps a busy Summer touring schedule within a three hour circle of Burlington. In the Winter, he performs solo at Vermont Community Libraries, House Concerts and Folk Venues.
In 2017, Rick released a 14 song musical tour of Vermont CD, "Welcome To OUR Vermont," with support from the Vermont Department of Travel & Tourism and the Vermont Agency of Agriculture, which was an AWA "Album of the Year" nominee. The Hotel Vermont in Burlington purchased 500 copies of "Welcome To OUR Vermont" and placed them in each hotel room as gifts for their guests.
Fronting the Ramblers, Rick has released a dozen CDs on the Airflyte Records label. Five pre-released songs from Rick & The All-Star Ramblers upcoming CD, "God Bless The Mighty Pickle," a tribute to the Ramblers tour bus of 22 years, are currently receiving extensive radio airplay throughout Vermont and nationally/world-wide, on Western Swing internet programs followng a "World Radio Premier" on Billy Bowles "Swinging Country" show on KSSL, in Lubbock, Texas.
Rick has played over 1,000 concerts over the past 57 years, singing his Vemont songs and telling his Vermont stories all over the world.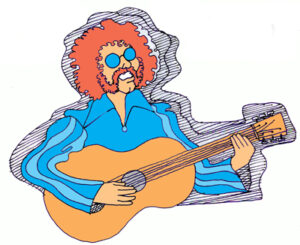 WHAT OTHERS SAY:
"Burlington has much to be proud of, but the rich career that Rick Norcross has led and the incredible talent that he has shared with this City for more than 50 years is unmatched. We look forward to many more years of lyrics from this Burlington institution."
…Burlington City Arts Executive Director Doreen Kraft
"Rick Norcross is a true Vermont original, a kind of musical Jack Kerouac. Stephen Russell Payne's book, Riding My Guitar – The Rick Norcross Story, perfectly capures his talent, his history and his good heart."
…Howard Frank Mosher, award-winning author
"Rick Norcross and the Ramblers are staples of the music scene in Vermont and have been for several decades. Norcross has established himself as a fine vocalist, songwriter, raconteur and all-around good guy. Norcross has kept Western Swing alive in this state and done a lot of performing for good causes."
…Barre Times-Argus Music Correspondent Art Edelstein