Rambler News Update Disclaimer: I apologize right now for the length of this post. Many wonderful things are happening with the All-Star Ramblers these days and I am writing to share the latest news. It has been several months since my last post so pour yourself a warm or cold beverage, settle back and let me tell you what's going on!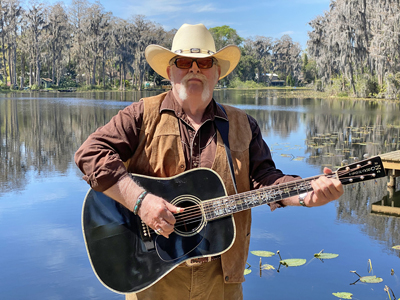 Disclaimer number 2: I fled Rambler Ranch in Burlington at the end of January and am visiting dear friends Rick and Karen Garner here in Tampa and am enjoying their exceptionally fine hospitality. I have finally thawed out to write the rest of the songs for our new CD project.
NEXT SATURDAY, MARCH 7TH, BILLY BOWLES "SWINGING COUNTRY" WORLD RADIO PREMIERS OUR NEW "GOD BLESS THE MIGHTY PICKLE" CD ON KSSL IN LUBBOCK, TX
This coming Saturday, March 7th, is a big day for Rick & The All-Star Ramblers. One of Western Swing's most popular radio and internet DJs, the Academy of Western Artists (AWA) award-winning and Hall of Fame personality, the one and only Billy Bowles, host of "Swinging Country" airing at 11 am Saturdays on KSSL in Lubbock, TX, is going to feature the World Radio Premier of our newest CD. Billy will air an interview with me and play his favorite tracks off our album. At the close of Billy's show at 1 pm, the Academy of Western Artists IndyExpress program, under the auspices of the ever-energetic Dena Wood, will commence the distribution of our album to over 500 Western Swing DJs around the world.
Billy Bowles also traditionally has the honor of being the first in the country to reveal the final five nominees for the annual AWA Will Rogers Awards in the Western Swing, Pure Country and Western Music categories.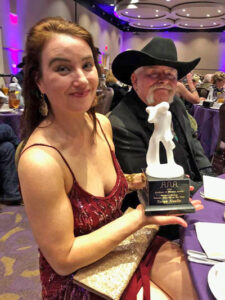 This year the 24th Annual Will Rogers Awards ceremony will be held April 9th in Fort Worth, TX, the cradle of Western Swing music. And yes, Billy announced in January that our Taryn Noelle has been nominated for the second year in a row for the "Western Swing Female Vocalist of the Year" award – which she won last year. Rick & The All-Star Ramblers have been nominated for the fourth time for "Western Swing Band/Duo of the Year." And I'll be headed to Fort Worth to represent The Ramblers at the awards on April 9th and another visit with our Western Swing Texas pals.
Tune in to Billy Bowles "Swinging Country" on-line Saturday morning at 11 am EST on KSSL and listen to our new music! Thanks, Billy Bowles and Dena Wood of the AWA for these honors.
RICK & THE ALL-STAR RAMBLERS NEW CD, "GOD BLESS THE MIGHTY PICKLE"
What would you do if, when the time came to sell your beloved tour bus after 22 years of faithful service, an angel steps forward, buys "The Mighty Pickle" and donates her to Marty Stuart's Congress of Country Music Museum in Philadelphia, Mississippi? You write a heartfelt tribute song, record a new album dedicated to "The Mighty Pickle" and share this amazing story with the world. That's what you do!
And that's exactly what I did after Dave and Boots Wright from Ocala, Florida, purchased the Rick & The All-Star Ramblers Western Swing Band's tour bus, "The Mighty Pickle" in October. The fact that Marty Stuart is my most beloved country music artist of all, makes the story even more poignant.
The title track, "God Bless The Mighty Pickle," tells the history of this extremely rare 1957 raised-roof Flxible Starliner, chapter and verse. Many Country Music stars of the 40s, 50s and 60s bought Flxible coaches with which they toured extensively, including Bob Wills & The Texas Playboys, Hank Snow, Flatt & Scruggs, Roy Acuff, Buck Owens, Johnny Cash, Doc & Chickie Williams and many other popular artists of the day. As a young performer and band member, Marty Stuart spent untold hours touring America in Flxible coaches and has enthusiastically welcomed "The Mighty Pickle" into his family. These days, Country Music stars don't own their multi-million dollar tour buses, they are leased, unlike the days of "The Mighty Pickle." This song documents the 22 years this bus traveled through the hills of old Vermont, never failing to reach a show on time. You can even hear the air horns from The Mighty Pickle a couple of times featured within the song.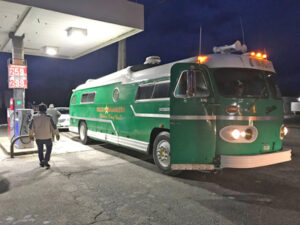 In addition, there are three more new songs I have written for this project, "Out In The Cold," a Vermont Winter weather report, "They Go Faster," a song about speeders on the Interstate, and "Help Us Find Our Song," recounting a romantic search for the perfect song for a couple in love.
Rambler songbird Taryn Noelle delivers a stunning vocal performance on the Western Swing smash hit, "Shame On You," written and recorded by Spade Cooley & His Orchestra. "Shame On You," was released nationally on Okeh Records on January 15, 1945, and quickly rose to Number One, spent 31 weeks on the Billboard charts and became Spade Cooley's signature song. Taryn Noelle, accompanied vocally by The Blue Gardenias, breathes new life into this classic song with a terrific instrumental arrangement by Rambler Charlie MacFadyen.
Special guest vocalists, The Blue Gardenias, an acclaimed Vermont jazz trio consisting of Amber deLaurentis, Juliet McVicker and our own Taryn Noelle, make a triumphant and harmonious return visit delivering masterful backup vocals to "Shame On You," "Out In The Cold" and the title track, "God Bless The Mighty Pickle." The Blue Gardenias last joined the All-Star Ramblers in the studio on sessions for the "I Rode The Ti" CD, released in 2008.
The decision was made to release the first five songs in EP format as a taste in anticipation of the upcoming full length album which will be released at the end of May. I am now in Tampa to write the rest of the songs for "God Bless The Mighty Pickle" and upon my return, we'll complete the CD project.
JONATHAN EDWARDS MUSICAL NOTE
Seven years ago, after three years of interviews and research, noted Vermont author Stephen Russell Payne's biography, Riding My Guitar – The Rick Norcross Story was published in concert with the release of our "Riding My Guitar" CD, celebrating my 50th year as a touring musician (with the same liver). Steve dedicated my biography to his friend, Jonathan Edwards with these words, "For my friend Jonathan Edwards, one of America's great troubadours. Your songs, support and personal kindnesses have made such a difference and for that I am deeply grateful."
Back in the 80s, when Stephen Russell Payne was a medical student at UVM, he owned a sound company and had the contract to provide sound reinforcement for Vermont's top music club, Hunt's Mill & Mining Company in downtown Burlington… and also for many Memorial Auditorium concerts. It was during this period that Steve and Jonathan became fast friends. Flash forward to two Summers ago, Jonathan Edwards came to St. Albans to help Steve and Marietta Payne celebrate their 30th wedding anniversary. Jonathan performed at their wedding. During his concert that evening, he invited me up to play one of my songs and stayed onstage to sing harmony with me. He again invited me up to sing on his encore, Jesse Colin Young's classic, "Get Together." What fun!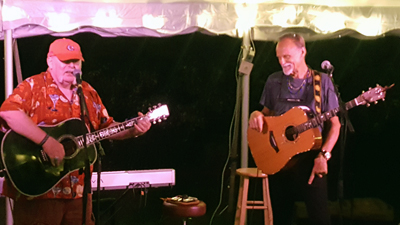 A couple of weeks ago, Steve and Marietta flew down here to Florida to visit Jonathan and his wife Sandy. Jon sent word with Steve that he'd like to play harmonica on our "God Bless The Mighty Pickle" project. As I have been a steadfast fan of Jonathan Edwards, his songs, voice and wonderful harmonica playing since the early '70s, I was both stunned and honored by his amazing offer. I sent him the five completed Pickle tracks so he could hear just what he was getting himself into. Here's his response:
"Hey Rick, just downloaded your songs and listened once through. Wow! What a great job. Great songs, great singing and playing and terrific production! Congratulations! I would Love to play on this stuff. It's all really good. We're driving to Lake Worth tomorrow, I'm going to burn a CD of the 5 contenders and give it a more in-depth listen. Thanks for even considering my participation in this project. All the best! JE."
Thank you to, as Stephen Russell Payne so correctly said, "one of America's great troubadours." Update to come. Stay tuned.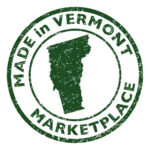 MADE IN VERMONT MARKETPLACE APRIL 4TH & 5TH
I want to invite everyone to come visit our booth at the Made In Vermont Marketplace at the DoubleTree by Hilton Hotel in South Burlington on Saturday and Sunday, April 4th and 5th. This is my fourth year representing Rick & The All-Star Ramblers at this terrific showcase of Vermont's finest food, music, beverages and fun. Our booth is number 423 and we'll have plenty of our CDs, YES, including the first pressing of the EP "God Bless The Mighty Pickle." Along with copies of six previous Ramblers releases, including "Taryn Noelle Swings," my biography, "Riding My Guitar – The Rick Norcross Story" and some of our new "I'm From Vermont – I Do What I Want" edgy buttons. The Made In Vermont Marketplace is a very special Vermont product showcase and the only show we love to inhabit. So please come out, ask about Rambler bookings for your party or Special Event and have a listen to our new music.
BOBBY MILLER
I drove out of Burlington on a Friday and arrived in Tampa on Monday morning of February 3rd. I was shocked and deeply saddened to hear the next day that Bobby Miller had suffered a heart attack and passed away. Folks in the Burlington area knew about or knew Bobby and his wife, Holly, as local philanthropists. Indeed his name is prominent on three Champlain College buildings, a community center in Burlington's New North End, The King Street Youth Center, The Respite House and even a wing of the UVM Medial Center Hospital. There was only one Bobby Miller. From a meager upbringing in Rutland, Bobby was the epitomy of the self-made man and a true Vermont character unlike any other.
Yes, many knew him for he and Holly's good works in the community, where they donated tens of millions of dollars given from the heart and given freely where they sensed a need and knew they could make a difference. He and Holly have been dear friends for over 40 years. We (Rick & The Ramblers) played for their Birthday Parties for over 30 years and they came to countless Ramblers concerts, grabbed a couple of front row seats and smiled throughout the show. Holly and Bobby were always at our annual end of the year "Last Roundup" concerts at the Hotel Vermont in October.
The Ramblers were honored when the Miller family called and asked if we would play a song at Bobby's Celebration of Life held the following Wednesday at the Robert E. Miller Expo Hall at the Champlain Valley Fairgrounds. I flew back home and joined Ramblers, Taryn Noelle on vocals, Dave Rowell on vocals and bass, Charlie MacFadyen on accordion, and me on vocals and guitar, to play Bobby's favorite song, "On The Road Again" at the close of the ceremony. RIP, dear Bobby Miller. Vermont misses you already.
WEB SITE UPDATE – VISIT RICKANDTHEALLSTARRAMBLERS.COM
Due to a sincere wish to update and freshen up our longtime web site, we have unfortunately not had a web presence for many months. However, thanks to excellent and enthusiastic new energy and support from a high school pal, Cheryl (Luther) Michaels, who recently returned with her husband Gary, to her (and my) ancestral home of East Hardwick, we are back, as of the upcoming magic day, Saturday, March 7th, we'll be up and running once again! Our new web address is rickandtheallstarramblers.com. Have a look and let me know if there is anything else you'd like to see on our web site. And a sincere and heartfelt Thank YOU to Cheryl Michaels. You are terrific!
RICK'S UPCOMING SOLO SHOWS:
• Friday, July 24th, Burlington City Arts Summer Concert Series, Church Street, City Hall Stage, 12:30 pm. Free Show.
NOW BOOKING RICK & THE ALL-STAR RAMBLERS FOR 2020 SUMMER & FALL DATES
Call Rick at (802)355-3531 or email us at [email protected] for Availability & Bookings for Rick & The All-Star Ramblers Western Swing Band or for Rick Norcross solo performances for your special event. Visit our web site, rickandtheallstarramblers.com, for current information, news and upcoming Rick & The All-Star Ramblers show dates.