RICK & THE ALL-STAR RAMBLERS WESTERN SWING BAND NEWS
Greetings from snow-covered Rambler Ranch. The Good News – we are less than a week away from March. The Bad News – another couple of months of slowly ebbing Winter temps. We are looking at a balmy 40 degree temperature spike in a day or two. That's a welcome harbinger of the beginning of Maple Sugaring Season here in Vermont. And that's a sweet respite from the 16 below zero air we choked down a few days ago.
"PRESS PASS" COLLECTION UPDATE

More good news about our "Press Pass" project. My hometown newspaper, The Hardwick Gazette," ran an excellent review a couple of Wednesdays ago. Gazette writer Sandy Atkins told the "Press Pass" story, chapter and verse and even ran a couple of my photos, Elvis and Merle Haggard, to enhance the tale. Back in the early '70s, I was one of three finalists in line to purchase the weekly and for a time, I was editor of the Hardwick Gazette. Thank You for the review, Sandy Atkins. Hometown coverage is the best!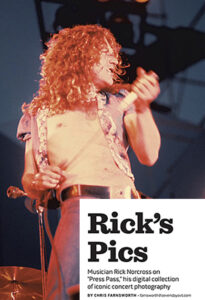 And Vermont's finest and largest weekly newspaper, Seven Days, ran a Q&A feature on me and "Press Pass" in their most recent edition, out last Wednesday. Chris Farnsworth asked the questions and I stumbled through the answers. If you were not one of their 35,000 regular Seven Days readers who enjoyed Chris's story, you can still go to their web site at sevendaysvt.com and read all about it in the digital edition. It's not often that I get a two and a half page story in Seven Days with three of my photos blown up LARGE. There's Robert Plant of Led Zep, taken on May 6, 1973 in front of 63,000 rabid fans at Tampa Stadium, and then there is Tina Turner, raving at Curtis Hixon Hall in Tampa on October 9, 1971 and standing just to the right on the page, B.B. King at Tampa Stadium on June 17, 1973. Thanks for the visit, Chris Farnsworth. Chris is a musician himself, guitar player, and wrote a great review of our Green Mountan Standard Time CD when it was released.
    A special Thank You to the many people who went to our web site and ordered a copy of the "Press Pass" collection for your very own. I had lots of northern Vermont interest and even a couple of orders from over in New Hampshire. All of the photographs on "Press Pass" are also available for sale and I have had over a dozen orders for prints, mostly  of Elvis, Janis Joplin and Jerry Garcia. Go to our web site, Press Pass Tampa, where our Duchess of Digits, Cheryl Michaels of East Hardwick, has updated the site with prices and sizes for any photos you may be interested in purchasing. I turn these prints and thumb drives around instantly so you can order "Press Pass" and enjoy rare images of those magic music makers of 1969 to 1974 in the intimacy of your own home. Have a look!
"PRESS PASS" BROADCAST MEDIA RECAP
Ace reporter Joe Carroll featured me on his WCAX "Super Seniors" Series on Thursday, January 28th. We had 99 visits to our web site, rickandtheallstarramblers.com, immediately following the broadcast, a record number of new friends. If you somehow missed the episode, you can enjoy the "Press Pass" story and the tour of Rambler Ranch again and again on WCAX video at https://www.wcax.com/video/2021/01/29/super-senior-rick-norcross/. You'll learn all about "Press Pass" and hear some of the stories about how these shots were taken.
Over the past few weeks, "Press Pass" has been featured on Vermont radio and television intervews. Ric Sengeri invited me for a full hour long visit on his "Vermont Viewpoint" show on WDEV Radio Vermont on January 20th. The hour sped by and we had a couple of calls come in from old friends in the radio audience.
Here's an unsolicited review from Tammy from Underhill who bought three "Press Passes" and a print of Janis Joplin and Bob Dylan:
I am finally carving out time to delve into this Press Pass! Wow! I am blown away. I wish you were here to bask in my elation! Elton's butt! Just for starters! So many candid 'in the moment' images… I hear the music in my head. Wow. Oh, how I wish I could have been there like you were. It's still scrolling across my screen as I write this…. I have several friends for whom this would make the greatest gift, so I dare say I will be back to order more. Kindly alert before availability ends – if it might.
Rick – thanks so much for putting this out. It really deserves to be a bound memoir.
Best wishes
Tammy.
Thank You all for reading this post. Warm Wishes to You and Your Family. Spring is on the WAY. Honest! Stay Safe and Be Well, my friends! –
Ta Ta. Rick
Meet Rick & The All-Star Ramblers Western Swing Band:
Rick Norcross – Vocals/Rhythm Guitar • Taryn Noelle – Vocals • Charlie MacFadyen – Piano/Accordion/Lap Steel • Dono Schabner – Lead Guitar • Doug Reid – Fiddle • Dave Rowell – Vocals/Bass • Ian Koeller – Drums
DUE TO THE ONGOING CORONA VIRUS PANDEMIC, WE HAVE NO UPCOMING RICK & THE ALL-STAR RAMBLERS SHOWS
RICK'S UPCOMING SOLO SHOWS:
• Saturday, July 17th, 2021. Sheldon Old Home Days. Free Afternoon Show. Performance part of an every-five-year town celebration produced by the Sheldon Historical Society in Sheldon, Vermont, just a stone's throw from the Canadian border. I had a ball playing there five years ago, fueled by Bill Wetherbee's terrific BBQ Chicken.