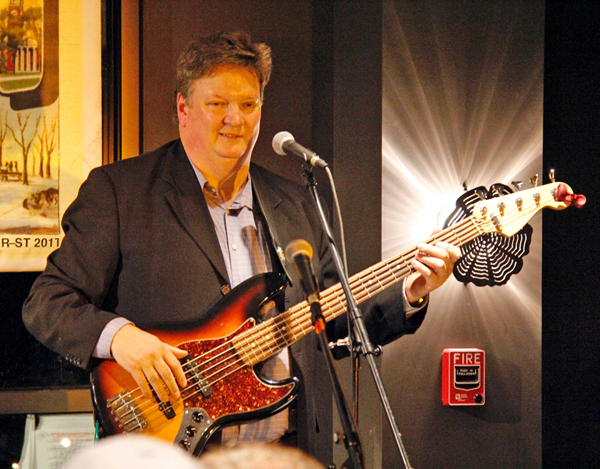 On the bass, Dave Rowell, the Mayor of East Craftsbury, holds down the bottom end of the band and provides those ultra-smooth vocals and harmonies that sweeten the Ramblers sound.
By day, an unassuming account executive with Morrisville country music station WLVB, a successful north country realtor and a spirited country auctioneer. By night and onstage… one wicked talented bass player and spot-on lead and harmony vocalist. Dave Rowell brings more than 20 years experience as a lfounding member of one of Central Vermont and the Northeast Kingdom's favorite traditional country bands, the WDEV Radio Rangers. The WDEV Radio Rangers performed on the air every Saturday morning at 10:30 on WDEV for over 25 years and are still a favorite at community events all over the region.
Dave hails from East Craftsbury where his musical roots run deep. His family founded the Craftsbury Chamber Players over 50 years ago and his sister Mary is Concertmaster at Radio City Music Hall in New York City and occasionally tours with Cheryl Crow. Dave brings a love of real country music to the table and knows more songs than an iPod Classic. He has quickly become a favorite vocalist on Rambler shows in addition to holding down the bass position in the rhythm section.
Dave is a "smooth as Grade Fancy Maple Syrup" lead vocalist in addition to being an exceptional harmony vocalist. Dave was featured singing two songs on the Ramblers' "Riding My Guitar" CD, "Don't Make Me Beg" and "Walking Around Money," and "Here's Yer Hat, What's Yer Hurry" on the CD "Welcome To OUR Vermont" NO /2 which this year was named one of five finalists for the "Western Swing Album of the Year" honors by The Academy of Western Artists. All three songs were written especially for Dave by Rambler Rick to showcase Dave's crowd-melting vocal delivery on the record projects. Dave was also featured on a brand new tune, "I'm Gonna Take It With Me When I Go," on the band's recent studio CD, "Green Mountain Standard Time."