"Press Pass" – a collection of 100 of Rick's best superstar photographs and 34 reviews of the stars that he covered in The Tampa Times.
"Press Pass" Flash Drives and Photo Prints are now available for purchase on our new web site "Press Pass Tampa" at https://presspasstampa.com/order/.
Press Pass is loaded on a 16 GB USB 2.0 Flash Drive which holds 100 original photos and 34 reviews of the artists pictured. In the 50 years since, musician Rick Norcross has toured extensively and recorded a dozen albums. Four new songs from his upcoming CD are included on Press Pass.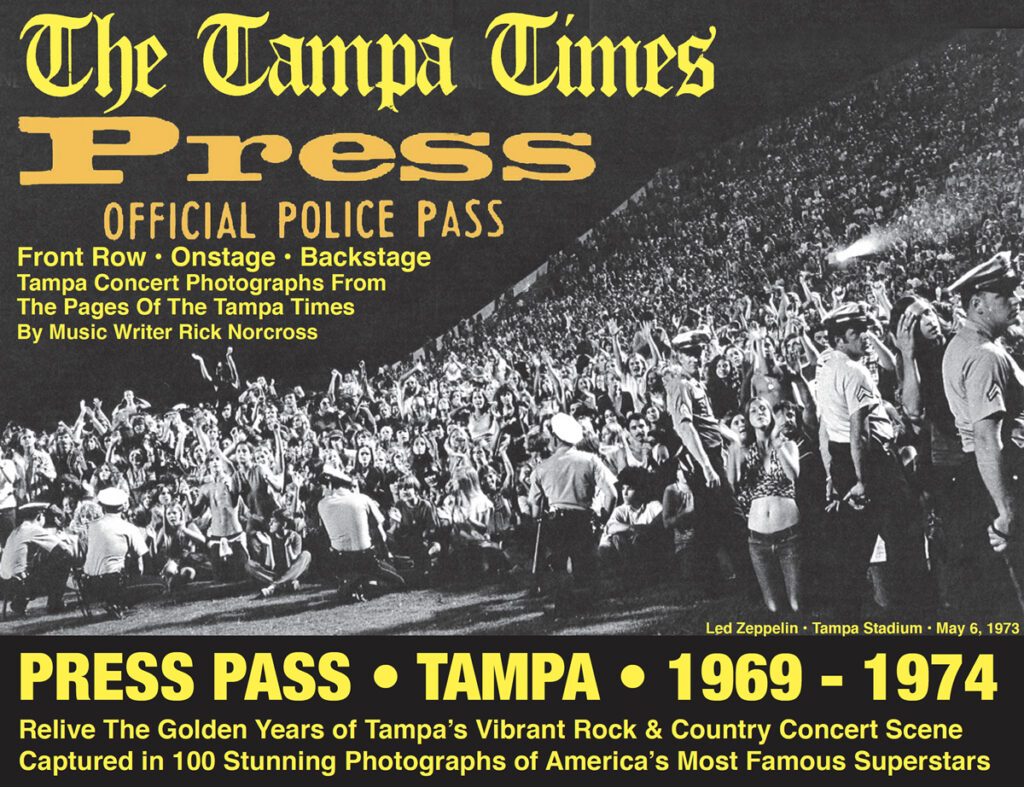 Press Pass, is a collection of up-close and personal Rock & Roll and Country Music superstar photographs and concert reviews from the pages of The Tampa Times during the Golden Age of the Tampa Music Scene between October of 1969 and September of 1974. Musician Rick Norcross was the music writer and reviewer for The Tampa Times, a 70,000 circulation afternoon daily newspaper in the 13th largest market in America. Norcross had free rein to cover any non-classical performance in small clubs, concert halls, stadiums and rock festivals in central Florida and southern Georgia during those very special years of music.
Over his five years with the newspaper, Norcross interviewed and photographed many of the most famous artists of the century – Elvis, Janis Joplin, Led Zeppelin, Johnny Cash, Elton John, The Grateful Dead, The Rolling Stones, Leon Russell, The Byrds, Merle Haggard, Chuck Berry, Eric Clapton and hundreds of others. With front row, on-stage and back stage access to these artists, access unheard of in today's atmosphere of super-strict celebrity security, this collection of photographs is rare indeed. These images have been seen twice in gallery shows only in Vermont since they were taken some 50 years ago at mainly Tampa venues, including Curtis-Hixon Hall, Tampa Stadium, Fort Homer Hesterly Armory, the Tampa Jai Alai Fronton and the old Florida State Fairgrounds. Others were shot at the Atlanta Rock Festival, the Sportatorium in West Palm Beach and at the Palm Beach Rock Festival, as well as the Bayfront Center in St. Petersburgh and at The Old Plantation, the home of George Jones & Tammy Wynette in Lakeland.
Now these photographs emerge to document the spirit and the unbridled energy of rock and roll stars caught at the peak of their careers, many of whom have long since passed away and many who are still rocking, buoyed by the quality of these seminal performances. Relax, put on their music, enjoy these classic images and remember!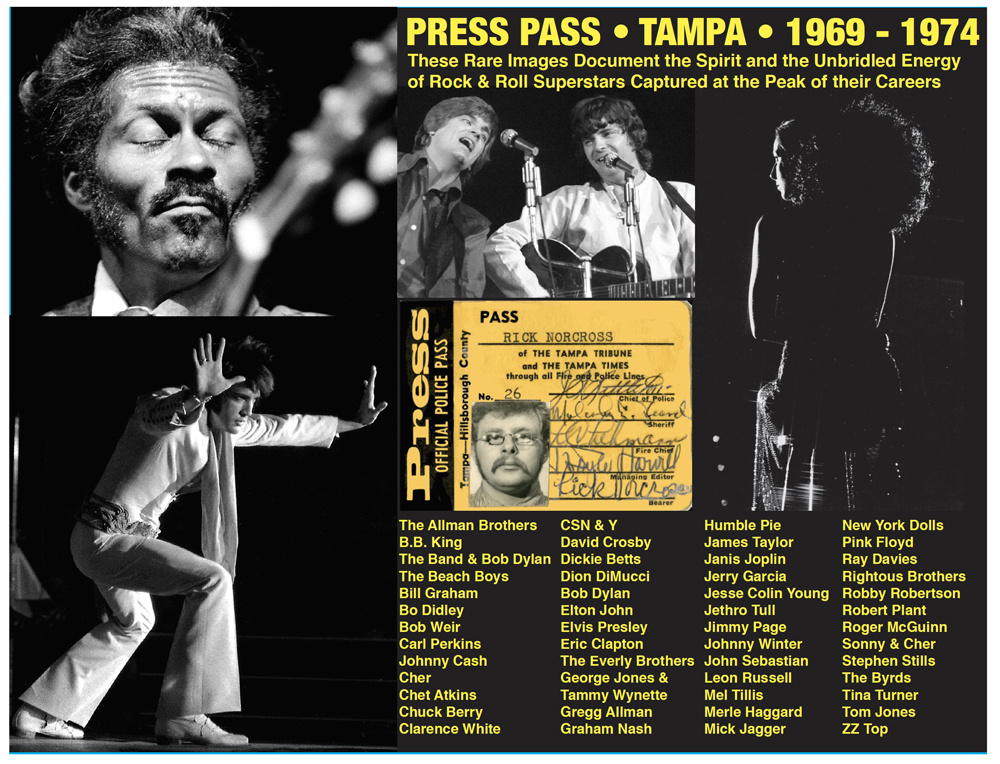 What others are saying about the Press Pass Collection:
"No one can really argue that the best rock music was created between 1969 and 1974! That's why it's still played on the radio as the Classic Rock format in many cities. So when you see the black and white photos of the music greats captured in action by then Tampa Times photographer and music writer Rick Norcross, it brings you right back to that time. You can almost hear the music when you view the pictures! Check out the PRESS PASS collection and relive those great memories!"
… Dan Dubonnet, Executive Vice President & General Manager, Hall Communications, WOKO/WKOL/WJOY/WIZN/WBTZ
"I was so moved by this extraordinary collection of photographs of so many of the musicians making the music that shaped me and so many others. Included with this collection is the back story of how Rick Norcross came to take these wonderfully intimate photographs. Press Pass is a singularly unique collection that captures a really important period in American Music History. I believe there is no other collection like this in the world."
… Lisa Marchetti, Musician, Burlington, VT
"The expressive images of these music icons triggered a recollection, equally heartwarming and heartbreaking, of that chapter in my life when I was becoming aware of who I was and who I was choosing to be. It was a good time to remember, and these captivating photographs made it even better. I predict that this compilation will touch others the way it touched me."
… Johanna Prince, Folk Singer, Educator and early '60s Greenwich Village Denizen
"Rick Norcross was fortunate to have rare access to the best musicians our generation had to offer in the early 1970's. His collection of photographs will put you right on stage with your favorite superstars. There is so much great stuff here. You won't be disappointed."
… Ken Grillo, Musician and Sound Engineer, Burlington, VT
"I had a great time going through the Press Pass collection. An awesome selection of musicians — being of a certain age, most of them were part of the soundtrack of my youth, and many of them still get air time around our house. You must have pushed a few boundaries to get those shots — the images are amazing. So close and personal — hard to believe a photographer could get that sort of access today. Next time through Press Pass, I plan to have Spotify fired up — the photographs call out for the music! Thanks for sharing your work."
…Doug Greason, Musician, Waterbury, Vermont