"I Rode The Ti" relates the history of the last of the opulent Lake Champlain steamboats, the Ticonderoga, a 220-foot sidewheel steamer built in 1906 and moved two miles overland in 1955 to the Shelburne Museum in Shelburne, Vermont. The Shelburne Museum is one of the nation's finest, most diverse, and unconventional museums of art and Americana (www.shelburnemuseum.org). Rick's mother was secretary to the director from 1951 to 1960 and Rick lived inside the museum from the age of six to nearly 16. He rode the Ti both under steam and on the ceremonial "Last Voyage," November 6th, 1954.
Ironically, Rick was contracted to produce the 50th Birthday Party of the Shelburne Museum in 1997 and the unveiling of the five-year McClure restoration of the Ticonderoga a year later, events that brought a combined audience of 21,000 people to the museum. Both days still hold the top two attendance records. The Ti was Rick's favorite boyhood playground and you can catch sight of him at ten years old in the film about the 1955 moving of the Ti that plays on board daily at the museum.
"I Rode The Ti" delivers two songs, "Bonnie" and "You Got What I Want," from Rick's musical heroes, the Light Crust Doughboys, one of the genre's most influential groups from Fort Worth, Texas. Rick worked with two of the Light Crust Doughboys from their golden years (1939 -1941), Knocky Parker and Smokey Montgomery, during Easter Week of 1965 and 1966 on Daytona Beach as part of the All-American All-Star Caravan.
Rambler Taryn Noelle, accompanied by The Blue Gardenias, sings her show-stopper, "Swing of the Range," a song from the Gene Autry movie "Rancho Grande" originally sung by Mary Lee, Rick's next-door neighbor at Fort Ethan Allen in Colchester in 1948. Mary Lee starred in nine Gene Autry movies, three Roy Rogers, and several of her own Republic Pictures.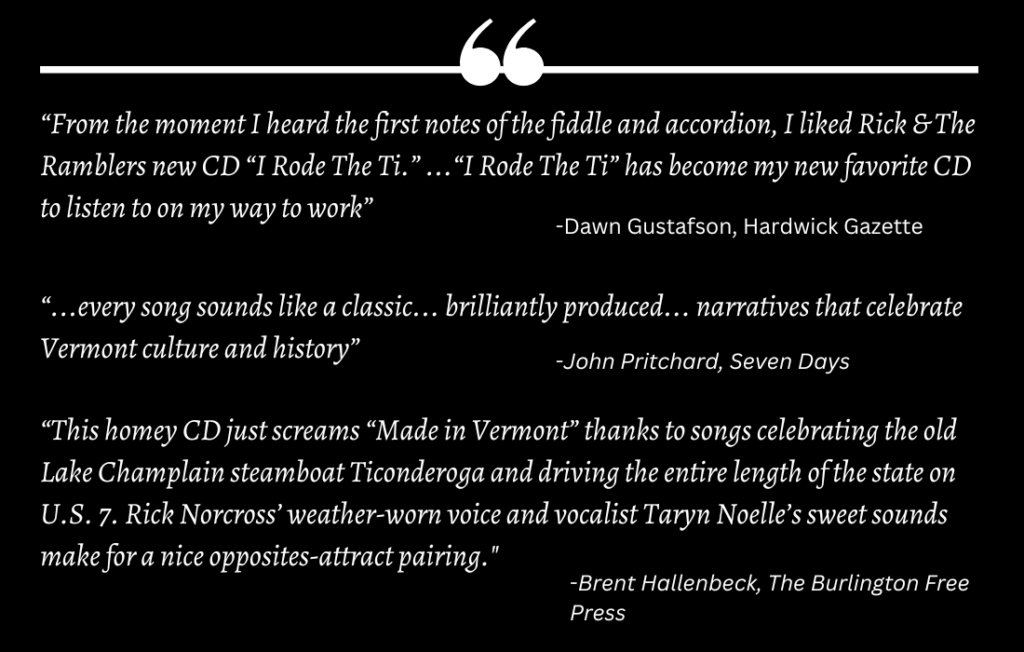 Listen to clips from I Rode The Ti:
I Rode The Ti
What Goes Around
Purchase CD "I Rode The Ti"
$15.00 plus $5.00 shipping fee.
We use the PayPal shopping cart for both PayPal and credit card payments. You will have the option to check out with PayPal or with a credit card.